Tropel Metrology Software, TMS Software
The heart of all Tropel Metrology instruments.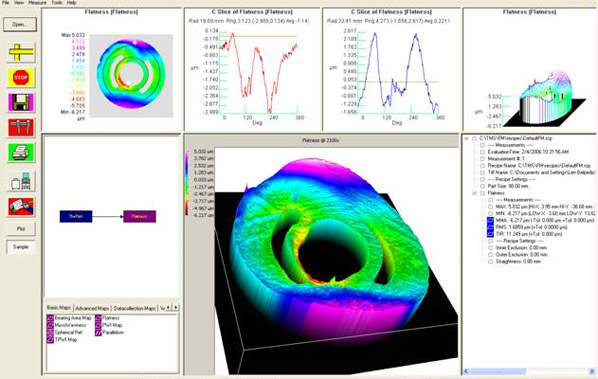 This Windows-based system is both powerful and easy to use. Data output screens can be added, deleted, and modified with just a single click of your mouse. Data can be represented in a myriad of ways to suit your requirements, or your eventual customer's specific requirements. Window contents, scales, settings and more are all fully definable by the user. From user-defined 2-D line plots to the fully rotatable 3-D images, pass/fail criteria, defined tolerances, color contour, isometric and histogram; you decide how your reports will look, so that you can align your production needs to the highest standards of quality.
Need to export data to Excel for later review or statistical analysis? You can export reports and databases for Microsoft Excel, CSV and via the serial port. The internal modem allows our service engineers to diagnose any operational difficulties remotely. These PC-based instruments are fully networkable as well. With the optional purchase of additional seats of TMS, you can create recipes, evaluate data, reconfigure screens and much more right from your computer.
Already have an older Tropel system running UNIX based versions? We provide support. Full computer, operating system, and software upgrades are available. Contact us to learn more.