Tropel UltraSort
The next generation of automated wafer qualification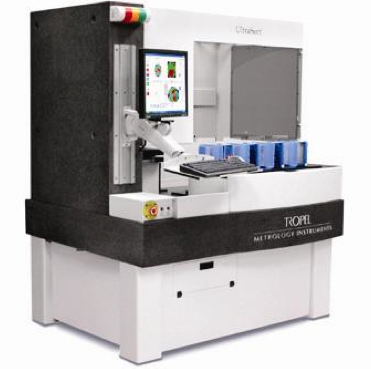 The Corning Tropel Ultra Sort represents the state-of-the-art in automated semiconductor wafer measurement, and continues a 25-year tradition of providing metrology solutions to semiconductor manufacturers. Designed specifically for high volume wafer manufacturing, this automated system offers the utmost in rapid, repeatable, accurate non-contact verification of many substrate materials in the field.
The Tropel UltraSort includes cassette-to-cassette handling with user configurable sorting capability. This Class 100-compliant system integrated a grazing incidence interferometer with industry standard robotic wafer handling. It can measure wafer sizes from two to eight inches wide, and is well suited for a wide variety of materials including gallium arsenide, sapphire, quartz, germanium, silicon, and much more.
Browse our Catalog to learn more about the Tropel UltraSort and other metrology instruments.
| | |
| --- | --- |
| Accuracy | 50 nm (2.0 u") |
| Repeatability | 15 nm (0.6 u") 1 sigma |
| Resolution | 5 nm (0.2 u") |
| Dynamic Range (typical, limited by surface slope) | > 100 um (0.004") |
| Part Range | 50 mm - 200 mm (2" - 8") |
| Part Range Configuration | 50 mm - 150 mm; 100 mm - 200 mm |
| Measured Data Points | ~ 230,000 per measurement |
| Measurement Time | ~ 5 seconds (typical) |
| Throughput = Clamped OR Unclamped | ~ 120 wafers per hour |
| Throughput = Clamped AND Unclamped | ~ 90 wafers per hour |
| Measurement Datums | Front referenced, back referenced, clamped, local site |
| Measurement Parameters | Bow, Warp, SORI, TTV, LTV, LDOF, Thickness, Stress, and others. Contact us for a complete list. |
| Data Analysis | 3-D, Contour plot, 2-D slice plots, Histogram, and others. Contact us for a complete list. |
| Surfaces | Wire Sawn, ground, lapped, polished, etched |